Result: ICCB-2 – Won by 224 runs
Venue: Wemmel
Author: Bharath Ram Ammu
https://www.crichq.com/matches/1021835/1st_innings
It was the first game of the season for Chevaliers who were already set up for learning and peace irrespective of the outcome of the game. This was the game to Kickstart the season for Chevaliers to reminisce how 50 overs feels like!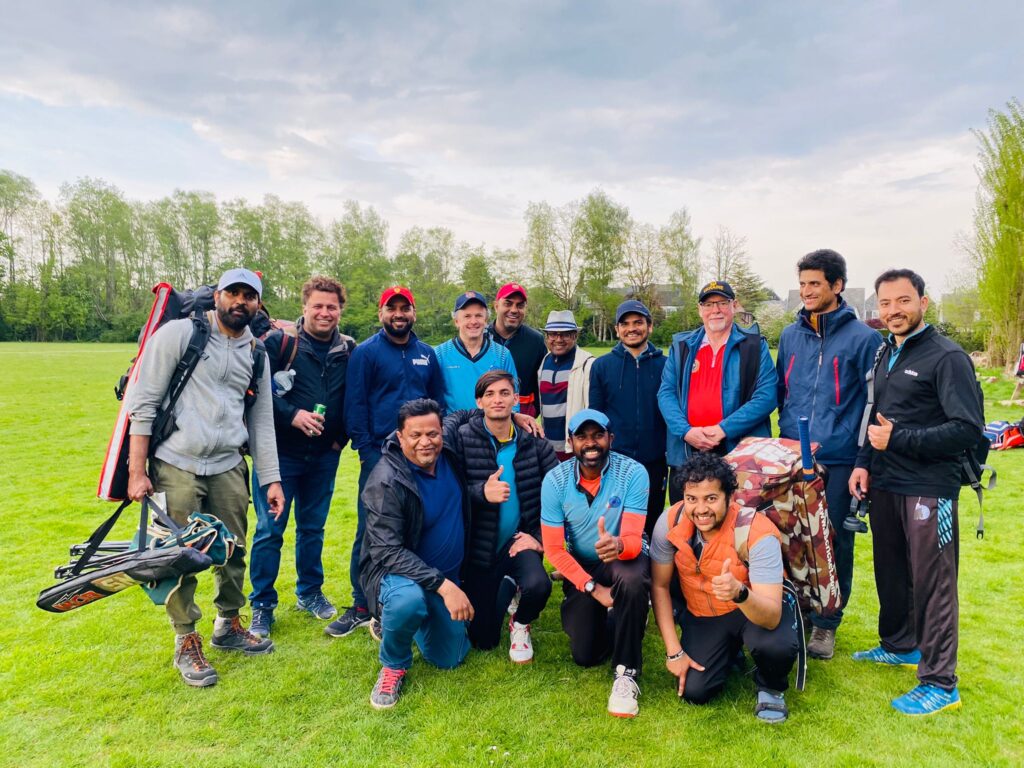 Early before the game, all Chevaliers came on time to enjoy the sunny weather! The captain JD lost the toss and set Chevaliers to bowl first. It started with some soothing warmups from Maddy and some harmless catch practices from Rahul. Chevaliers started the bowling with JD and Manoj the mystery flighter this time with the new ball. Straight Away, Manoj made the aggressive opener Sai confident, making him to hit through the cover gap but skippa JD had an 'eagle-eye' to take the low catch, giving Chevaliers the early strike. JD kept one end tight while Manoj had couple of LBWs going his way, thanks to Umpire. Chevaliers got ICCB to 58-3. From then on, Chevaliers brought alive ICCB's top scoring batsman 'extras'. Thanks to some inconsistent bowling by Bharat triggered some drop of catches too, with ICCB even getting a hat-trick of dropped catches! Shashi and Ashutosh from ICCB took full advantage of them, with latter scoring a quick 69.
It was until Ishaq the leggie (in his 2nd life) who stuck to remove Shashi with a caught and bowled, giving the breakthrough. Sharif stuck with a quick ball to get ICCB to 166-5 to bring Shreyans the ex-12 stars player to the crease bringing some mixed emotions on the field. He hung around for a while before Ishaq took Ashutosh with a catch at slip from Bharat. Ishaq stuck again to scalp 3 wickets to get ICCB to 200-7 with some beautiful flighted leg spin. And then when Shreyans looked to win the battle of the 'ex' es, leggie Raj arrived and removed Shreyans with a good flight and Harkun doing the stumping making captain JD delighted. ICCB were now 216-8.
Then came captain Srikanth along with Anirudh who constructed a smooth partnership against a tired Chevaliers to take them to 311. Anirudh continued further until Manoj and JD came back and struck to restrict ICCB to 331 in 47.1 overs. Chevaliers were more happy that they saved 17 fair balls to field, of course restricting the runs too in the course 😉 Chevaliers had some great curry and bread thanks to Annie and JD! The graceful scorer in service of Chevaliers, Ravi was active here, both in serving and eating 😉
Chevaliers then opened the batting with Rahul and Harkun but were treated to some quality swing bowling from captain Srikanth and good support from Vinoth. With umpire being lenient towides but not at all being lenient to LBWs, Chevaliers were down to 12-3. Peter a key batsman in the lineup was set before he perished to a beauty from Srikanth leaving them at 27-4. Then veteran Manoj joined Ishaq to play a decent partnership before Ishaq perished at 59-5. Eventually, Nagesh a newcomer to 12 stars from ICCB, also had a battle of 'ex' es which he couldn't capitalise thanks again to a soft LBW given out by Umpire. Manoj had a brief partnership with Bharat, before he was dismissed off the first ball from Shreyans. Sharif had
some good attacking before he was unfortunate to be removed at short mid again by Shreyans. Raj was unfortunate to be dismissed too, leaving Chevaliers for 72-9. Then came captain JD whose eyes lit up for many occasions to hit some good shots, even though he claims otherwise 😉 He played some good shots to score 26 taking Chevaliers beyond 100. Chevaliers played 35.2 overs tiring the opposition, before JD given out LBW again by Umpire to a delivery from Shreyans which looked like it's impact was dubiously outside the line of stumps.
Even though Chevaliers lost by a big margin, the spirit of the team was not down. This was seen more of learning for the long season ahead to keep improving every game! As Raj quoted, 'it was a long day at office fielding for close to 60 overs thanks to the extras'. However, it was an engaging and fun day for everyone who played and helped us (thanks to Ravi!). It was followed by fun drinks at the nearest bar at Wemmel, along with our opponents from ICCB! It was a great day overall, and Chevaliers is setting the culture well for 12 stars to forget the loss, remember the learning but cherish the moments!