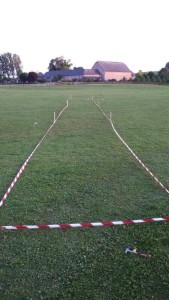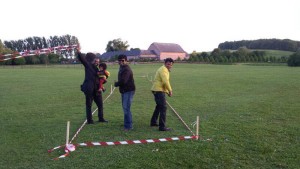 12Stars Mon 12&13 pitch laying @ Bilande – status and plan – Anthony
Hello everyone,
Thank you for your interest and input to this project.  Here is the status and plan for completion.
Amit, Ani, Tony & Som marked out the pitch Fri following instructions from Hector & Scotty
The excavators, mat & base material are all ordered and will arrive on site from 0730 on Mon
All other required material is known.
Flight & hotel for Notts Sports technician are booked
Plan for Monday
Ganesh R, Peter, Ajay, Tom G, Sunil B, Anthony & Som are expected on Mon. Hector & Scotty will join to lend advice but the work must be done by us. Other helpers not already named are welcomed.
Anthony will go to the ground from 0700 to receive delivery of equipment. @ Tom – you want to join me?
0835 Simon is to be picked up at the airport.  Amit has offered to do this and deliver him to the ground.
Work can be expected to start as of 0900.  Does anyone have experience driving a small excavator?  The delivery person from Boels will show us how to drive it.
Everyone coming is kindly asked to bring work clothes and food to eat during the day as there are no stores near the ground.
Also bring a hammer and a container to carry water (eg 5l) if you have one.
Also please bring a shovel if you can.
Ideal situation is for the job to be completed Mon.  But if it goes into Tues then. Amit. JD. Ashish & Som are expected to finish the job.
The biggest issue we face is the transport of water out to the middle.  Bilande will lend us a 20 meter hose but this is far from enough. Bring a hose if you have it and we can get some adapters.  But it may be more realistic to fill containers which we will fill and transport back to the middle.
@ Ganesh – please don't forget the measuring wheel from Antwerp.
Good luck and see you Mon 0900!!
Address of the ground.
Ferme de Bilande (name of company)
Abstraat 153, (street)
3090, Overijse (town)
Just a hint it may be easier to find it if you turn right onto Schaatbroekstraat off of Abstraat.  This is a dirt road which will take you to the site quickly. It is just after the bus stop (Sch a at breaks tea at bus stop).
Cheers
Anthony