Liettres Challenge tournament 2016
Match Dates: 24-25 Sep 2016
Match Type: T20 Tournament
Author: Ganesh Ramasubramanian
Massacre on the cricket field
Day-0: Travel:
Tour manager JD was repeatedly shouting by email "Guys someone needs to collect the keys from the land lady before 9pm on Friday"…
I could hear his voice even in Antwerp … but as usual none replied !!!
At the end, I had to take the rental car from Antwerp to Brussels and collect the people and then drive to Lille. BTW, JD didn't inform anyone that the place that he booked is still further away (45' drive) from the playground !!! 🙂
Myself and Tony had an expedition through the fields…
Google map was saying there is a road, but none of us could see it…
All reached the place by around 11pm.
Then, we had nice pasta, biriyani and other food items brought by all.
My kid had to be explained that Belgium is closed for the weekend as he was already asking when we will go back ? !!!
Day-1: Game 1: "BHUuuuu….. Sssh….an" zeggen….
Next day, we left our family back (did we or they left us !!!) in the motel and we went to play cricket. We are supposed to start our game at 11AM and we went there at 11AM.
The opponent Lille CC were quite surprised to see us doing warmup and got motivated and they also did some…
The whole warmup session was cooled down by the starting ceremony which took around 30' :).
The council person was quite furious with the organizers but we were all looking here and there as we didn't understand a single word… (He was talking French).
They played the National Anthem of France and Belgium.
Many of us heard the National Anthem for the first time. 🙂
JD as usual (like a good school kid) was just moving his mouth as though he knows 🙂 🙂 🙂
We lost the toss and lille asked us to bat as they also haven't played on the wicket. The pitch was prepared just for the tournament (soft pitch) and no one knew how it will behave but our openers knew (Rahul and Vijay) !!! They started with a bang… The boundaries were coming quite fluid. When Rahul got out the score was 34, "BHUuuuu….. Sssh….an" joined… The commentator was praising the wicket of Rahul but he wasn't aware that we had quite big guns behind. Vijay and Gannu subsequently fell to be joined by Mr. BahuBali Ayyappan…. The Commentator till then was saying something went bizzard and speechless. Everyone were saying "BHUuuuu….. Sssh….an". Bowlers were massacred from both the ends. Rain of Sixes from both the ends. Whatever the delivery the ball was sailing across the boundary to be collected from outside. At one point Ayyappan was quite afraid that the spectators will be injured due to sixes !!! 10 sixes from Bhushan and 8 from Ayyappan. When Ayyappan fell for 67 already frog was dissected… Bhushan was not out at 112* and following picture will say the rest.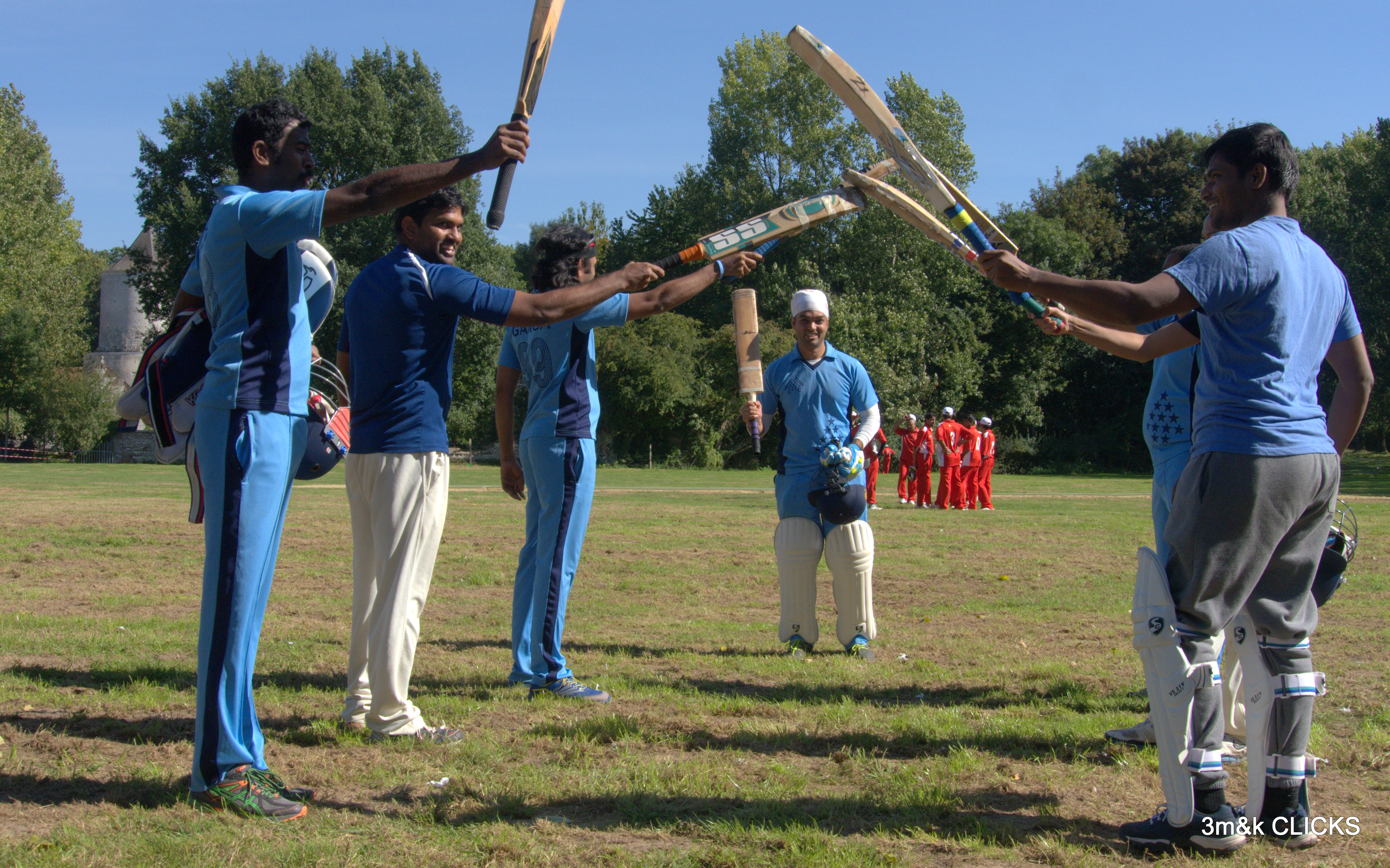 Full credit must also go to the Lille CC as they tried valiantly to match us.
Aditya from their team scored a Hundred (of course we did leave many catches !!!).
Even as someone pointed out Manoj and Gannu had difference of opinion in the field setting and the choice of bowlers…
All things comes to an end in 12 stars with Drinks.
There was no shortage of beers (I was asking in the bar if they Stella Artois, Leffe, Carlsberg or at least Jupiler !!! The guy looked at me as though like I have come from another planet J).
Then, Mr. JD and Mr. Manoj asked me to call up the Motel and ask the status about the Family for their travel plans to the ground (Cowards they couldn't call).
I did call and kept the phone down as the blood was coming in my ears !!!
After 3 mins when I picked up the phone again, I said yes to everything and disconnected. For that phone call I had to drink another 2 beers J J J
Lille CC people at one point asked me personally how you guys are able to play with this much fights in the field. I told them "We forget everything after the game while drinking !!! ". That indeed was true.
Lille CC organizer was mentioning to Tony it seems: "We invited you guys to participate NOT to win !!!"
Lille CC (France) Vs 12Stars Bruxelles (Belgium) – 12Stars Bruxelles won by 11 runs (scorecard)
Summary:
12 Stars (247 for 5 wkts in 20 overs, Bhushan: 112*, Ayyappan: 67)
Lille CC (236 for 4 wkts in 20 overs, Aditya Rana: 119*, Jiffry: 68)
Day-2: Game 2: Whistable Gents Vs 12 Stars : Nog een keer… "Bhushan's game"
We arrived at the ground a bit late and the opponents asked whether they can bat first. Manoj kindly agreed as we also want to see whether we can chase.
Whistable CC played quite good text book shots…
We were all impressed with the 8 and 13 year old batsmen.
Both kids played fantastic and it was really fun to watch them play.
They scored 134 at the end in 20 overs.
We started quite bad and Rahul got out cheaply and Vijay was given runout though he reached. Anthony went in and came back immediately !!! (We expected big shots from Tony including the organizer but wasn't his day)…
Bhushan and Gannu played some sensible inns and they propelled the score to 75 when Gannu got out. But, Bhushan carried forward (score: 72) and achieved the target well within 20 overs.
Vishal will not forget this day as he got out to the superb bowling from the 8 year old.
The kid will also remember that for years. !!!
Special mention must be done to the Whistables Wicket-Keeper.
She (Yes it was "She") was far better than anyone and she was standing up for the Fast Bowlers !!!
Ball en Ballentjes…
I forgot another funny incident…
A high catch was coming to our Chairman (Mr. Anthony Brand) who was waiting at long on…
As usual Anthony moved here and there thinking that ball will land somewhere else but it came landed straight to him and he doesn't have to move. We were all wondering that if he catches then he will circle around the ground at least once !!!
But we were unlucky…
Yes, he could see the ball like a football (he had that much time !!!) and fell to the ground.
In Flemish for kids they say "Samen spelen samen delen" and I think Tony took it literally….
At one point of time Tony was holding 3 balls, 2 of them are bigger and quite dark !!! (Courtesy: JD)
It hit directly in the abdomen and he fell to the ground.
He threw the ball (Was it cricket ball !!!! 😉 ;))
A Lille CC person brought a pain killer !!!
LOL 😉 He should have used that 😉
Whitstable CC vs 12Stars Bruxelles – 12Stars Bruxelles won by 4 wickets (scorecard)
Summary:
Whistable CC (134 for 9 wkts in 20 overs, Ganga: 3-9, Ayyappan 2-17)
12 Stars CC (135 for 6 wkts in 17 overs, Bhushan: 72, Ganesh: 24)
Day-2: Final: "Rahul Invincible Paghey apart"
We immediately wanted to start the final game as we want to finish the match in time to reach back to Brussels.
Manoj had a confusion whether to go for batting/bowling as it was drizzling a bit. Gannu and Ayyappan suggested to go for the kill (for batting) and it turned out to be the right decision as Rahul was waiting to give his bag full of runs…Yes, he did that in style.
Rahul and Vijay opened the proceedings but Vijay got himself runout for an ambitious 2nd run.
That brought Bhushan to the crease. He started playing as though he left from his previous game (one six and a four) and then came the blunder.
Rahul called for a single by hitting straight into the hands of the point fielder and Bhushan ran thinking that he will be able to reach.
Well in short and got himself run out..
Pathetic. else both Rahul and Bhushan would have scored the mammoth total.
Then, Gannu joined Rahul.
Rahul was already 59 at the time.
It was quite an entertainment to watch Rahul play at the other end.
I was lucky to witness I must say.
I haven't seen a hitting like this.
At one point he was saying to me that he isn't getting the timing !!!
All sixes (17 in total) were all clean cricketing shots. None were a mishit.
Bowl off – Six over the covers,
Pitched up – Six either over mid-wicket, long-off /long-on,
Pitched short – Six to the square.
Even good length balls were also not spared.
In an over at least there was 2 sixes and a four.
Inspired by him on the end I also started playing and scored 52 runs.
When I got out, the partnership was a mammoth 156 runs !!! (Unbelievable)
Rahul remained not out with a score of 181*
We scored 275 runs in 20 overs.
Run chase by Lille was just a formality.
Manoj was already preparing like PhD thesis what to speak in the award ceremony….
Luckily he wasn't called…. 😉
They were never in reach of the target.
Manoj took 4 wkts
Final: Lille CC vs 12Stars Bruxelles – 12Stars Bruxelles won by 65 runs (scorecard)
Summary:
12 Stars (275 for 4 wkts in 20 overs, Rahul: 181*, Ganesh: 52)
Lille CC (210 for 7 wkts in 20 overs, Bhutani 64, Shitole 47, Manoj Nag: 4-42)
Then, we went back to our Motel to be greeted by our family with a wonderful Pasta on a wrap and everyone grabbed their part
(We were really hungry not just for runs but for food as well)…
Man of the Tournament:
Obvious choice was Rahul for his wonderful 181* runs and that too in a T20 final.
Kudos to Rahul and we can expect more from him in the coming years.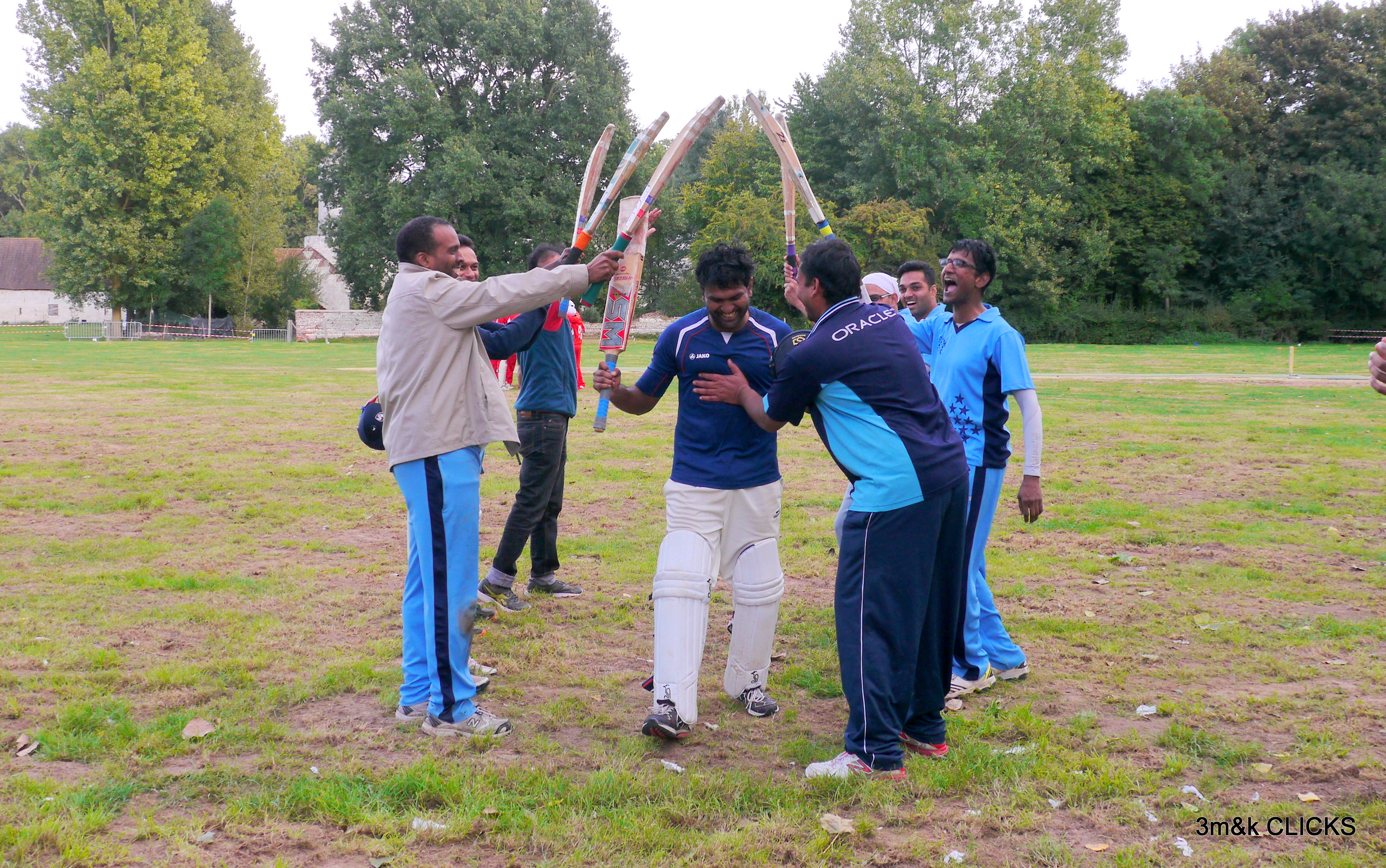 Take away(s):
We Believed in ourselves…
Rejuvenated 12 Stars…
By far very well Organized Tournament….
We already mentioned to the organizers that we would love to come back.
Will they allow us ? 😉
Lille won the first year tournament comfortably and they said that they would love to invite us every year.
Only the rolling trophy we didn't like 😉 We would love to have one in our Club house !!! (As we didn't have the club house they didn't give us ?)
Why are we not conducting such event in our beautiful ground Bilande ?…