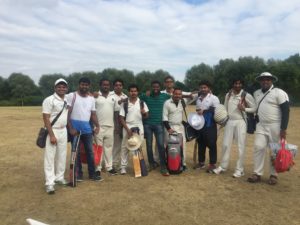 More than 1 ½ month since 12-Stars-2 has played their last League match for Division 4. Most of the players were in good form (I Say) thanks to mid-week games, friendlies and BIG cup which make us not to forget about cricket even though we haven't played for so long a competitive match.
As usual we have hardly no players (including the opponents) at the ground by 11.30.. Maddy, JD, Satheesh and Hassan (Umpire) where only present and we can see Manoj constantly yelling at people (in whatsapp) for not being on time to ground we can hear his voice from Luven to Hasselt pitch clearly.. Slowly players joined and JD was so enthusiastic that we are default going to win the toss as toss is not completed by 11.45.. He was premeditated that we are going to field as we have won the toss by default.
Team Sheet, Score Sheet, Spare balls kept in Bilande and waiting to be picked up and we were in Hasselt thinking that someone will bring it as it was told by Match Manager Ramee.
To his dis-avail Hassan called both captains for Toss and too his despair he lost the toss and we are asked to field first and match was reduced to 41 overs a side due to non-availability of players at stipulated time in both the camps.. This is what even JD was thinking even if we have won the toss.. So Happy Ending (No other meaning meant) for his toss saga…
JD and Ramee started the proceedings for 12STARS bowling attack.. JD had some bounce and swing in his first over.. Liege-CC openers where in different mindset altogether.. They wanted to start aggressively doesn't even bother about the swing or bounce.. Ramee got first breakthrough in his first over as the batsman want to pull and it got top edge and wicket keeper (Satheesh) collected it safely. Immediately the next ball New batsman in the crease, drove the ball to long on for another catch and fielder missed a difficult opportunity. Next over JD's good length ball nicked the edge of Furqan's bat and  went into glove of the keeper safely. At this stage Liege-CC was 14/2 and we thought it will be low scoring encounter on the cards.. Jazanfar (Alias Chand) and Ali Raza has different strategy they continued attacking the opening bowlers and scoreboard increased at rapid pace. JD bought Nauman into attack replacing himself and still no respite in his first over. At end of 10 Overs Liege-CC where 106/2.. JD changed his end and he fetched wicket in the first ball. Chad giving regulation catch to safe hands of Rahul at point. Nauman's next over fetched a wicket of Hamza who clearly misread the ball and ball didn't misread where stumps are… We thought this will reduce the scoring rate as 4 wickets down and still 28+ overs to go.. Liege CC introduced Big Ben (Naveed) to crease and he has no intentions to get runs (running between wickets).. It's like launch pad sixes and boundaries are coming constantly.. Ali Raza as well finding boundaries constantly and score board is ticking..
Captain need to re-think quickly to stop the juggernaut so he introduced Sunil at one end replacing himself and we call Sunil as Auto-pilot or bowling machine in the match as he constantly bowled on same line and length for which batsman has no clue at all.. This made Naveed unsettled in the crease and became more impatient as he was not finding boundaries in Sunil's over… Maddy replaced  Nauman at other end as Nauman is little costly in first few overs.
Competition between Juggernaut and Bowling machine came to an end as Big Ben edge from his bat clattered into the stumps.. Maddy pace was constantly beaten by batsman pace J J and we have very tight overs between Sunil and Maddy..Maddy was unlucky not be given stumping in his over by leg umpire else he might have got his first wicket in this year League. Liege-CC were reduced to 154/5 at end of 20 overs still Ali-Raza was still at crease and scored an half-century.
Still 5 more wickets to go Ali-Raza was caught in deep (cow corner) by Rahul the best catch as the ball was drifting away from him and he made it to look like a simple catch at the end.. This reduced Liege-CC batting option as only tail-ender left.. Runs dried and 12 STARS seems to have lost the appetite to take wickets.. From 160+ we have given 50 runs for last 4 wickets.. Maddy's ball beaten the batsman and bails taken off by keeper and Maddy registered his mark in the league.. Still Sikander was in crease and Srini was observing his batting technique and Sunil's bowling and he placed himself in 2nd slip and Sunil bowled his same good length ball. Skiander edged and it travelled to where Srini wanted the ball to come as he placed himself there.. Nauman reintroduced to take the tail off and he did his job swiftly by taking the last 2 wickets in no-time. Rishabh to bowled a decent 2 overs at the end of the innings. Nauman completed with 4 wickets, JD, Sunil has 2 wickets each, Ramee, Maddy 1 wicket each. Scoreboard read 211 as target.
Team regrouped and strategy was to bat all allocated 41 overs. No big surprises to batting line up Prem and Rahul opened the innings.. First few overs were tight though runs where coming from extra's.. Prem and Rahul are scoring 6 runs an overs.. There are elegant Cut, Pull and Cover Drives from Prem on the other end Rahul has shown great maturity and rotating strikes between them. Hardly there was no chance given to opponents and we scored 67/0 at end of 10 overs.
Opponents are clueless to break the opening partnership so they started rotating bowlers and Chand bowling from medium pace to leg spin it has shown their desperation.. After 10th over openers up the ante by scoring boundaries in every over. Prem and Rahul's elegant shots fetched them boundaries as the outfield was very fast. Rahul thought the match is boring and he want some fun so there where heated discussions with leg umpire on the field. 12 STARS in the pavilion doesn't have any clue what is going on in the field.. Somehow Rahul composed himself after the heated exchange and was cautious in his shot selection.. He was playing ground shots rather in the air.. Prem has launched his first six of the innings towards mid-wicket and what a class he reached his first fifty in the league.. Applause all over and we wanted openers to finish the match… Scorers miscalculated Rahul score with Prem's run and told Rahul to raise his bat for his half-century (still it is well deserved 45 from his end). Prem and Rahul are like Gentlemen on the field as they shook their hands after their respective fifty (no hug no kiss)…. Score read 137/0 at end of 17 overs.. In couple of over there was mini-collapse both set batsmen where out Rahul at 45 (thinking he already reached 50 and what to give opportunity. to other batsmen) and Prem at 63. Akshay and Srini at crease both showed some composure to the innings and runs where coming even though there are no big hits..
Akashay edged the ball and hit his forehead  and landed in the hand of square leg fielder luckily it didn't do any harm and it's unfortunate he didn't wear helmet (as spinners where bowling when he was in the middle and they changed to medium pace and he hasn't paid attention to it). Srini was so patient in the crease and he ensured we didn't lose any wickets until we reach the target.
Now, its time for 12STAR's to introduce Nauman as Launching Pad to the crease. Nauman tore every bowler left/right/front and back and Srini on other end getting boundaries from his classic Cover Drive and Pull shots. At the end 12STARS very comfortably reached the target 211 in well below 30 overs.
All together a good collective team effort in all departments bowling, fielding (though we missed few catches it didn't cost us), batting, chatting, eating and what else….
A Special Thanks to Vishu (Sunil's son) for scoring our batting innings completely and he ensured we have the 2 points on the board. He is more enthusiastic from beginning when we started batting and whenever a boundary is scored he told that we will win easily win easily (Also learning Cricket Nuances from his father Sunil). Its 12STARS privilege he signed as the scorer in the scorecard. Junior 12STAR helped Senior 12STAR's.
Satheesh C for 12Stars
March

2023

Mon
Tue
Wed
Thu
Fri
Sat
Sun