27th March, 2022
Venue: Antwerp Cricket Club
Author: Asijit Ghosh
The moment everyone was waiting for, the start of the cricket season. It was a gloomy – cloudy Sunday morning in Antwerp but the excitement and eagerness on everyone's face made it seem like a warm summer day.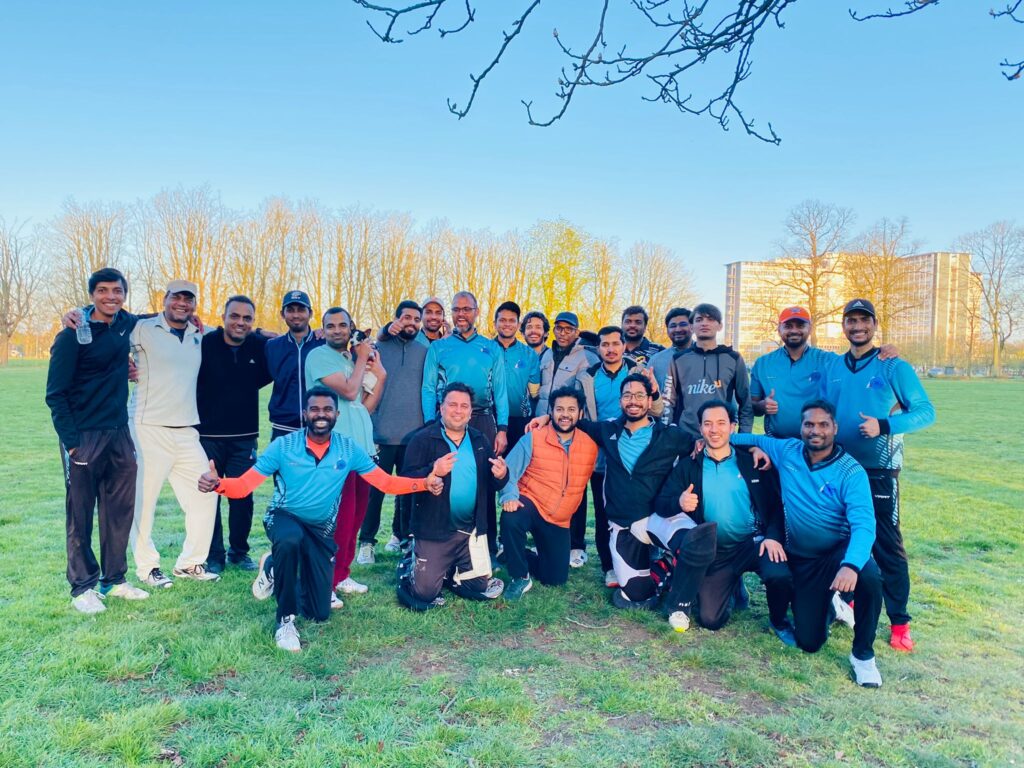 The two teams named Warne XI and Marsh XI to honour the legends who recently passed away were led by the two new first-time captains for 12 Stars, Nemish & Myself. The toss was won by Marsh XI, led by myself and we elected to bat first.
I sent in the dynamic Bangladeshi duo of Sazzad and Kowshik and asked them to have fun….and boy, they had some fun :P. Despite a tight opening spell by Vishal and Srikanth, the opening pair raced to 76/0 in no time when the first wicket fell. I think I had something to do with it, I was sledging the opponents and asking them to give other batters a chance. Sazz tried to sweep one off Nemish and got out leg before on 40. This sent Rohan into a frenzy and he ran towards the dugout and lifted his shirt to show #ParamparaPratishthaAnushasan. Ok, this joke is here to stay. Back to cricket.
Sarath joined Kowshik in the middle and played a nice anchor role while Kowshik continued the carnage. Kowshik got out just after reaching his 50, caught at long on off Ishaq. It was a vintage Kowshik innings with runs all around the ground. 118/2. After this the bowlers kept it very tight. Rohan, Nemish, Ishaq, Sachin… all bowling tight lines and making it hard to score. Wickets kept falling at regular intervals. Bhavesh and Sharifullah, two of the newest members of 12 Stars announced their arrival by taking wickets and catches respectively. Some useful partnerships between Sunil, Sreeni and myself pushed the score to 168/7 at the end of 20 overs, higher than our initial target of 150!
Rohan was the pick of the bowlers with 2/10 in his 3 and he bowled a knuckleball which completely bamboozled me……ahhhh, I will never hear the end of this.
Second Innings. Nemish and Amit walked in to open. Kamal with the new ball. The batting side started off well with Nemish hitting a huge six in that over. Unfortunately, it was all downhill from there. Ravi started from the other end and removed both the openers in the 2nd over. Kamal kept bowling it in good areas making it extremely hard to score and the spinners kept taking wickets from the other end. 21/5 after 3.4 overs. Rohan along with Vishal, Ishaq and Srikanth put up a fight. Ishaq played a very different innings than usual and took everyone by surprise. Probably the most memorable part of my day was seeing Manoj bowl to Rohan. It took Rohan 3 overs to figure out what to do, but he hung in there and in the end scored a respectable 30 odd. Sarath our new find was also exceptional with the ball taking 2 wickets. 8 bowlers were used, 7 of them getting in the wickets column. A total team performance getting them all out for 90 odd.
Lunch → A side note to thank Subbu for organising delicious food for lunch after almost 2 years.
After an exceptional lunch, the captains switched sides. The rest of the team remained the same.
Put into bat, Rajiv and Amit walked in. Kamal with the new ball again. We don't know what Kamal ate that day, but he was unplayable. JD started from the other end and was unplayable as well. (I should have checked the ball, something was fishy :P)…jokes apart – great bowling effort again by all. Kamal, JD, Subbu, Sarath, Sreeni, Manoj & Ravi – no one gave anything away. Reduced to 43/7, the lower order fought back exceptionally! An anchor Innings from Bharat supported by Harkunwar & Ishaq – Pushing the score to 99. Ishaq scored 17 which could have changed the game. 100 to win and the batting side believed.
Nemish and Sazzad walked into bat on what should have been a regulation chase. The fielding side of course had other ideas.
Srikanth and Vishal started the proceedings and kept bowling in good areas. Sazz departed in the 3rd over trying to accelerate the innings. The very next ball, Nemish was run out…direct hit from Rajiv and it was a moment of brilliance! 16/2. Sarath, Sreeni and Sunil steadied the ship but some excellent bowling from Rohan, Rajiv and Ishaq created pressure and sent them back to pavilion. 50/5. The match was on a knife's edge…. another 2 quick wickets and the batters were reduced to 68/7. Surely the fielding team could pull off this heist……. Ravi and Manoj thought differently. Vintage Manoj and a patient Ravi started taking 1's and 2's to push the score forward. A dropped chance when the score was on 80 odd and some patient batting took them home in the 19th Over. Phew…..what a match!
Couldn't have asked for a better opening day. The matches were followed by your regular leg pulling, samosas and beer! In the end, I think everyone had fun which is the whole reason why we play cricket.
Very nice to see the newcomers Sarath, Sachin, Bhavesh, Sharifullah playing, having fun, and contributing. We almost saw vintage Amit, we did see vintage Manoj and JD (Can we call JD vintage? I think we can!) and we saw some great performances and teambuilding!
Kudos and on to the next!