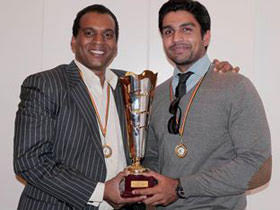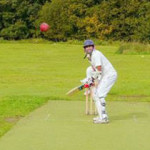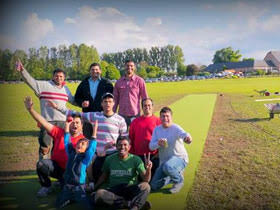 Anthony Brand (ELD Training Senior Specialist) and Rohan Ravindran (R&D Powertrain Engineer) recently told InTouch of their activities to turn a failing low league cricket team into Belgium National Champions.
Anthony, fell in love with the game as a young boy growing up in Trinidad. "You cannot avoid cricket in Trinidad, it is a national passion! I joined a cricket club at school and again at university. Even the two broken noses from not wearing a helmet did not dissuade me from playing. Though it does make me sound like I have a constant cold!" stated Anthony.
"When I moved to Belgium in 2000 I saw a crumpled poster at the Jamaican embassy calling for cricketers to join the 12 stars.
Once a proud, strong club we soon became more like fading stars! By 2005 we were in the 3rd (lowest) division of the Belgium league. But the passion and belief was still there. I stepped in, initially as the kit-manager until the tragic season of 2007 when they asked me to become team captain. In that season, I earned the nick name of Captain 007 – 0 wins, 0 ties and 7 losses! Our lowest point was losing to the Belgium under-19 team by 320 runs to 150 runs, We finished bottom of division 3 that year – statistically, the worst club in Belgium!. There was only one thing to do – that was to poach their teams coach – this I successfully did.
From then we were on fire; in 2008 we were promoted to the 2nd division and in 2011 won the T20 mid-week cup – our first ever title", smiled Anthony.
Rohan interjects: "The transformation was amazing, as the 12-Stars were winning more and more games; they found themselves attracting more and more talented players. People like myself, who could have joined the historic Belgium Royal Cricket Club, decided to join the 12-Stars. We are now a very talented international team – in fact we are the envy of most Belgium teams."
InTouch asked Rohan about his cricket story: "Like Anthony I was born in a cricket mad country (Madras, India). My story is very similar to Anthony's but I have never broken my nose! However,  I have had some near-misses! I fell in love with the game at 7yrs old, joining cricket teams at Schools  and colleges in India, my university in Germany and even joining the Michigan County Cricket Club, USA whilst doing an internship!
Last year was an amazing year for the 12-Stars; we celebrated our 25th anniversary, we won the Belgium National league 1st Division and to top it off we moved to our own new ground in Overjise," stated Rohan.
So what is next for the 12-Stars InTouch asked? "Preparing our new grounds, and ensuring we make it a hat-trick this year by winning the National League again", replied Rohan.
"As the retired 007, I am now the chairperson of the club; highly involved in working with the club committee on behind the scenes organization. Now, we're busy starting a junior 12-stars section for children aged between 6yrs and 15yrs. Practice takes place at weekends. If  any TME member wishes to bring along their children for an introduction to cricket and/or wants join our club for a trial we  would be very happy to receive them", just contact or email us at [email protected], stated Anthony.
Closing the conversation InTouch asked Anthony and Rohan which is the best cricket team in the world and for once they were not in agreement!
Anthony Brand