Result: Hasselt CC-2 – Won by 165 runs
Location: Hasselt
Author: Nikhil
https://www.crichq.com/matches/934804/1st_innings
After having had a glorious victory in our previous encounter, 12 stars 3 was ready for the second header vs Hasselt 2. Chevaliers were eager, hungry (literally, as several of them left after having reached early to get some breakfast), on a roll and flying high (for the record, nobody in playing 11 was actually high, outside of the playing 11? Well..)
Chevaliers were ready to charge. Sticking to the winning game plan, 12 stars opted to bowl first again. Hasselt had made some strategic changes with two new players, while 12 stars also brought in some fresh blood. The game was on.
Hasselt started cautiously, wanting to see off the new ball. JD struck timber, taking the opener out with a nice bit of swing bowling adnd a few overs later, Bharat sent the other opener back. Hassan and Fakhar started to stabilize the innings. Being cautious initially, Fakhar started playing some nice shots. The draught of wickets set in. 12 stars tried many tactics with quick fielding changes and bowling changes. The pair were helped along the way with several dropped catches (7 in total, but who's counting). Finally, in the 29th over, a stunning catch at the long off boundary by Bala sent Fakhar packing. However, the platform was set for Hasselt. 12 stars were unfettered though. Hassan joined Fakhar back in the pavilion the next over, with some nice piece of fielding. Kamran and Harjot added 40 runs to the board before Kamran was sent back with a deceptive slower ball on his pads by your's truly in the 36th over. The tail refused to stay while Harjot piled on the runs. Finally, in the last over's last ball, 12 stars finished off Hasselt, for a tall total of 342.
Chevaliers entered the second innings unfettered, determined to give Hasselt a run for their money. The strategy was clear: stand 50 overs, play your game, stay and above all else, take the opportunity to enjoy. It is after all, a great day to play cricket. Vishal and Bala walk in and show their might with a flying start. An unlikely direct hit sent Vishal back, and Bala was caught the next over. Nikhil and Ravi work on stabilizing, capitalizing on bad balls, but fall within 15th and 14th overs through unforced errors. Maddy goes cheaply too, bring in Siva and Avinash to the crease. This pair was a treat to watch, it was evident they were enjoying their game as they calmly went about their business for the next 16 overs. Siva, finding boundaries on occasion. A moment to cherish arrived when Siva milked 30 runs off one over of Ranganath. Even though most of these runs were (wrongly) attributed to wides. Dinesh continued where Avinash left playing some classic cricketing hooks and drives. Barry and JD continued the resistance right down to the 50th over.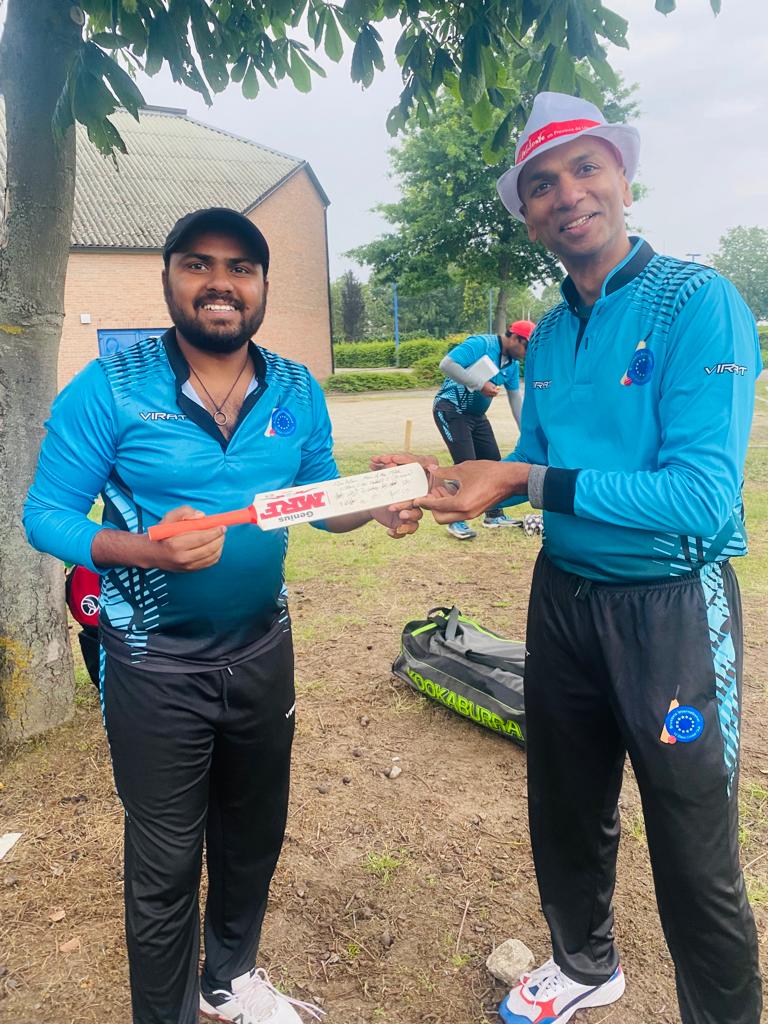 The post-game analysis centered around our catching vows, to bat or to bowl first, and field positions. Some motivational speeches, focusing on what is coming, and the importance of communicating to the captain when one feels unfit. Nonetheless, it was the first game where the stamina of all players was tested. Playing 100 overs and enjoying a full day of cricket was indeed the most satisfying part.